CA modules BISS buy cheap delivery around Europe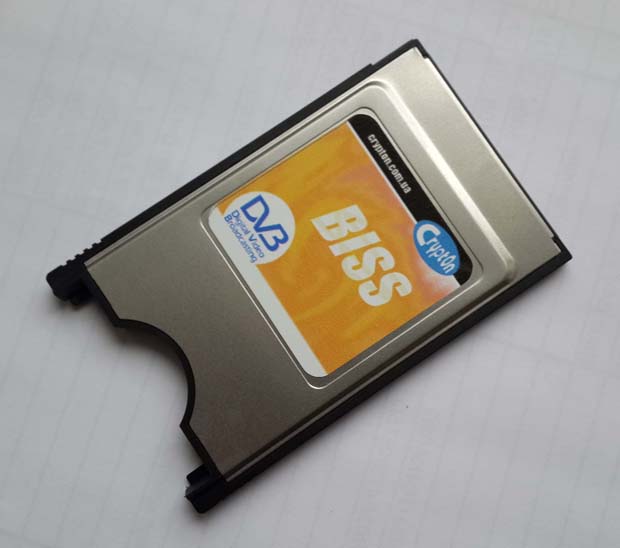 You can additionally view a lot of satellite channels without a monthly fee!
DVB-CI module Biss used to decode the conditional access system with a fixed key BISS. The module is suitable for TV, satellite receiver and other equipment with a CI-interface. You must first enter a special key In accordance with the specification of BISS to provide access. A smart card is not needed to access. User-friendly menu allows you to quickly manually enter the keys and IDs. The Crypton BISS module can store up to 64 different keys for BISS Mode in the non-volatile internal memory. You can enter 64 keys for 64 different services (identified by their service id).
What is CAM?
A conditional access module (CAM) is an electronic device, usually(but not for BISS) incorporating a slot for a smart card, which equips an Integrated Digital Television or set-top box with the appropriate hardware facility to view conditional access content that has been encrypted using a conditional access system. PC Card form factor is used as the Common Interface form of Conditional Access Modules for DVB broadcasts.
What is BISS?
B
asic
I
nteroperable
S
crambling
S
ystem, usually known as BISS, is designed to decode cardless conditional access system with a fixed key Satellite program broadcast on large areas and are commonly available in the territories of several states. But not all the content is licensed to broadcast in other countries. Thus, public broadcasting, may violate laws of individual countries. For the simplest of coding used, it refers BISS. It uses a static key access. The access code is not changed, so the key can be entered once and constantly have access to. For this reason, the use of encryption BISS enables broadcasters formally withdraw completely from the violations of the law, and the user is not difficult to find the key for decoding. BISS is quite popular in the satellite broadcasting and it is easy to see, because a large list of programs.
Trends in reception BISS
Several years ago, for the reception of satellite programs you need a special Set Top Box. Modern TVs have a multi-standard analog and digital TV tuner for cable, terrestrial and satellite programms Number of such TV sets is growing. Multi-standards tuners are becoming less technical problem. It is anticipated that soon all TVs will be fully compliant with all TV standards. In this case there is no need for the use of a special Set Top Box. We could get rid of extra remotes, devices, switching power supply. Usually the Set Top Boxes are built emulation BISS and cardsharing. It is clear you can't expect such additional services in the branded TVs . Hardly anyone would agree to do an update of the expensive TV patch of unknown origin.
Solution
Crypton proposes to use the CAM BISS for descrambling satellite BISS encoded channels in TVs with CI interface.
Professional multi-program descrambling BISS PRO
If the transport stream multiple programs encoded BISS, one module can simultaneously process immediately 8 programs, each with his own key. This feature is used only in professional applications. In professional receivers, such as
CRT1081IRD-S2-IP
) do not need to put the program on each individual module. One Crypton BISS can replace the 8 modules. In TVs, this possibility is not used.