Meet IP>QAM
World First consumer market IPTV to DVB network converter
The only way to apply CI+ for Prime TV distribution over IP
Highest level of network security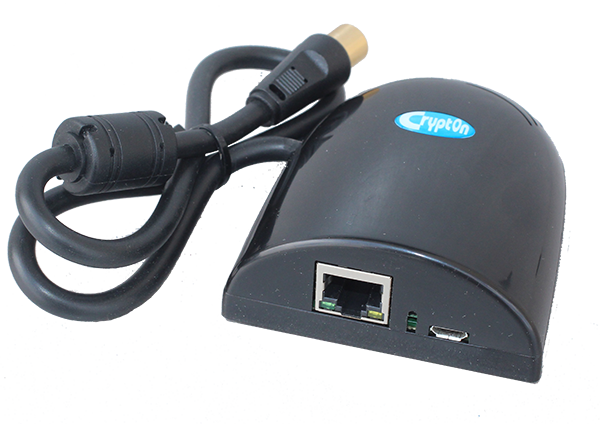 Short description
Set-top box IP>QAM is a tiny DVB-C Modulator with IP input. The incoming transport stream received from the Internet, is converted into a digital television radio frequency signal. Modulation standards and parameters fully meet the standards of digital cable TV. For maximum compatibility with all Tvs, the type of modulation QAM-64 with 62 MHz carrier frequency. The feature is that only one program is transmitted.
The power of the set-top box (+ 5V) is supplied with a USB port of the TV. Set-top box output connects to the antenna input of the TV, the Internet connects with a standard cable. To view programs, you need to tune your TV in the signal from the set-top box IP>QAM and fill the Internet addresses of the streams in the menu of the set-top box.
Unlike the other set-top boxes, IP>QAM does not generate the image on the TV screen. It means that there will be no usual boot process. There will be no booting messages or on-screen menu. IP>QAM can only transmit. Therefore, only after you have completely set up the entire chain of receiving IP stream and receiving RF, you will see the the picture. The web interface will be handy to configure the device. The setup needs to be done once during installation. Also it is necessary to configure 4 buttons of the TV remote to operate set-top box IP>QAM. Switching programs is made in the set-top box not in the TV. Two buttons on the remote switch up and down a program within the software package and other two buttons switch between the packages.
Using only four buttons of the remote you get minimal functionality,however, it may be enough for everyday use. More enhanced functionality of interactive TV - range of programs, pause, rewind, multiscreen etc., can be obtained with a mobile gadget (smartphone) and described in the instructions.