IP>QAM Box Datasheet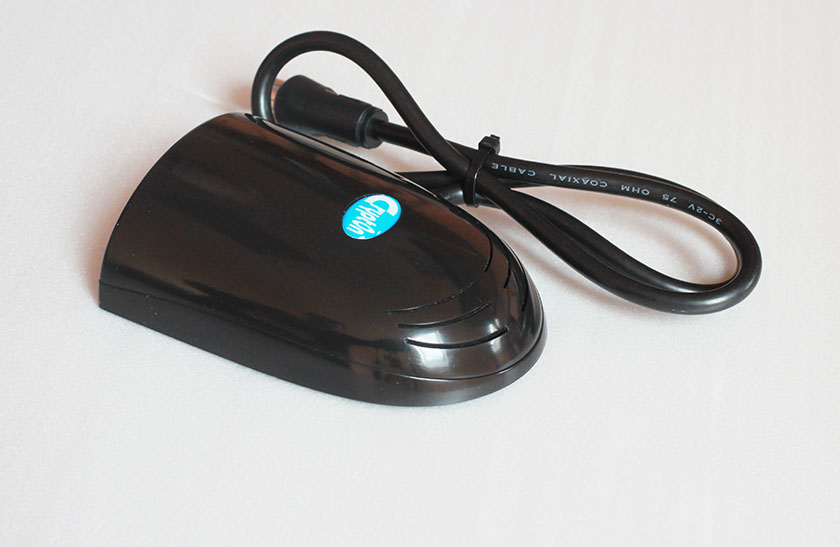 IP>QAM Box Datasheet
IP-to-QAM Box is a universal IPTV network access module. It operates as portable edge DVB-C modulator that retrieves DVB-over-Http type channels/programs from the streaming server of IPTV provider and translates them to the RF input of the TV Set or cable STB.
The device supports two control interfaces to provide user comfortable and convenient Live and On-Demand TV preview experience.
First, IR reciever, allows simple switching of TV channels of IPTV provider play list. It is most convenient if TV Set RCU is used providing One Remote Control experience.
Second, Second Screen, let the user to employ the mobile device for easy and comfortable discovery of TV programs, launching Live or On-demand streaming, getting program description or any other associated information from the provider site or Internet at the time a selected program is shown at the screen of the selected TV Set.
Multi-screen is an other useful and convenient innovation. You can easily launch the program preview on the screen of any(all) TV Set(sets) in your home, pause the preview on one TV and resume on an other or use mobile screen to continue.
High security access module can be activated if IPTV operator decides to restrict illegal preview of TV programs.
Встроенный сценарный язык программирования использует отркрытый API и расширяет возможности адаптирования устройства в сети провайдера.
The device Software can be automatically updated from the IPTV provider or manufacturer web site.
Embedded scripting language makes it possible to use open API to extend the device adaptability in the operator network.
IP>QAM is packed in compact size plastic case and used power supply of USB port of the cable STB or TV Set.
Embedded WEB interface can be used to make Individual settings such as network configuration, service provider URL or RCU adaptation.
Technical specifications
| Network Interface | |
| --- | --- |
| Connector type | RJ45 |
| Physical Interface | 100Мbit Ethernet |
| Network protocol | TCP/IP |
| Streaming type | DVB-over-Http |
| Network Identification | Static IP, DHCP |
| DNS | Yes |
| Modulator | |
| Connector type | IEC 61169-2, type 9,52 (Belling-Lee) |
| Modulation | DVB-C |
| Specification | EN 300429 |
| Frequency, kHz | 62000 |
| Modulation type | QAM64 |
| Symbol rate, Msps | 6750 |
| PCR accuracy | 500ns |
| Access control | |
| Embedded secure access module | Yes |
| Individual setting up | |
| Interface | Http server(Web interface) |
| Default settings | |
| IP address | 192.168.0.100 |
| Login | admin |
| Password | admin |
| Power supplyе | |
| Connector type | Micro USB |
| Supply Voltage | 5V |
| Max. Supply current | 0.5A |
Description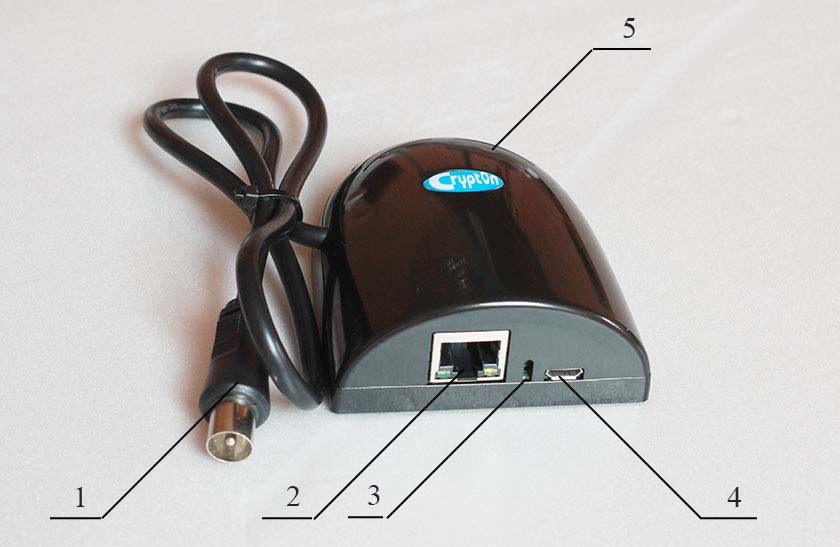 RF connector is used for connection to DVB-C input of TV Set or cable STB;
RJ45 connector for Ethernet interconnect;;
Reset to default button;
USB connector for power supply from TV Set or STB;
IR receiver for RCU interface..
Functional block-diagram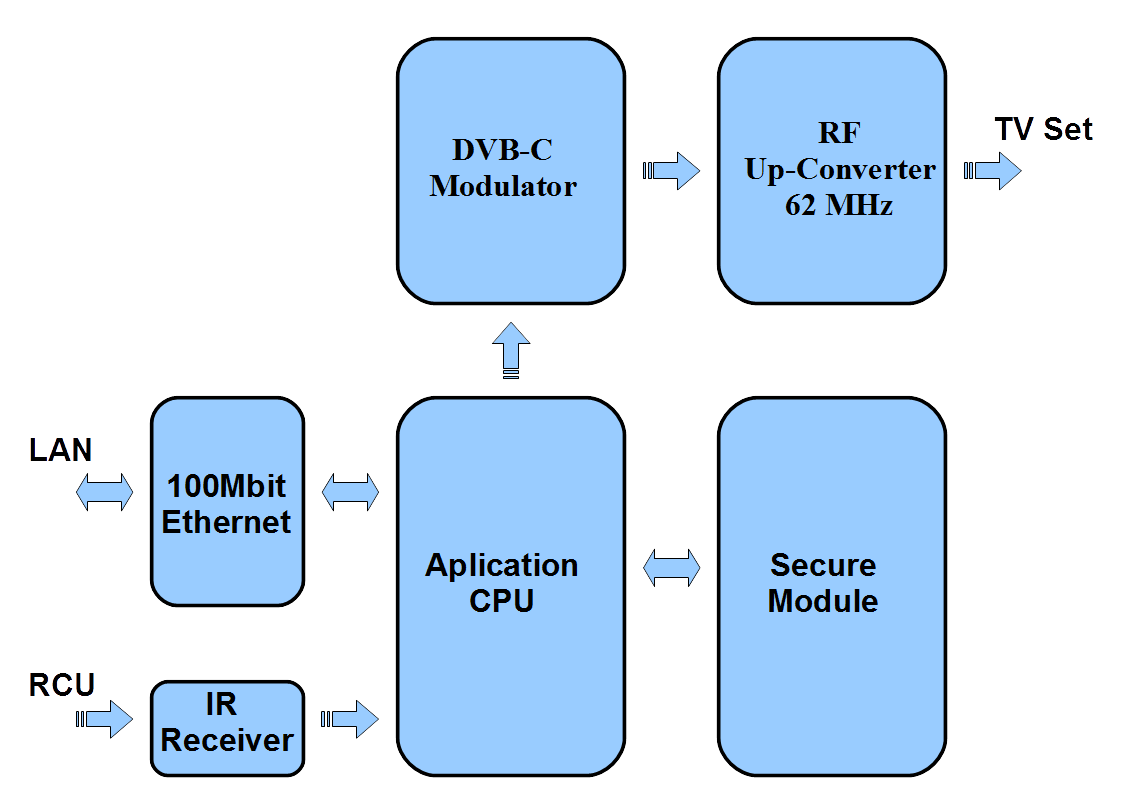 100Mbit Ethernet is used for Ethernet connection;
IR Receiver принимает команды от ПДУ;
Application CPU for user Software operation and reception of TV programs from the IPTV provider network;
Secure Module is responsible for secure data exchange of IP>QAM and IPTV provider access control server;
DVB-C Modulator converts IPTV streams to DVB-C signal that can be easily received with cable STB or TV Set;
RF Up-Converter shifts DVB-C signal to RF band(62 МГц).